I donated a custom made BobbleHouse to a young man and his organization who is bicycling across the country to every baseball stadium to raise awareness for big brother and big sisters.
Matt started his bike trip in Seattle on April 6th 2015, riding solo and unsupported for the 11,155 mile journey to all 30 MLB ballparks. Along his ride Matt is raising money and attention for Big Brothers Big Sisters of Greater Milwaukee and Biking for Baseball.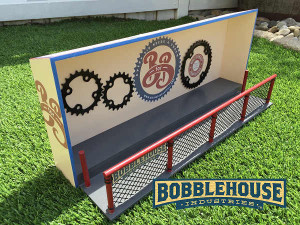 Matt spent his weekend in Washington and stayed for the game on Monday night vs the Arizona Diamondbacks. Before the game, The Half Street Irregulars (a Nationals fan group), threw him a pre-game party, collecting donations and welcoming Matt to Washington. Part of the donations included money for the non-profit group, a signed Max Scherzer jersey hand delivered by his wife Erica Scherzer, and a custom made BikingForBaseball BobbleHouse. It was a great time for a great cause! Check out his website and organization and donate if possible.